AVAILABLE AT GRESHAM & BEAVERTON
Laser tag is an exciting adventure game where you will find heart pounding fun each and every time you play.
From the minute you walk in to put on your battle suit the excitement begins. Once you walk into the themed arenas and see blinking lights that materialize through the fog-shrouded corridors you know you are in for some adventure. Our arenas are filled with a gentle haze to make the lasers and flashing lights more visible. Music and black lights also add to the atmosphere to create a feeling of walking into another realm. Laser tag is an exciting, fast-paced game where you compete for high scores.
Ages 5 and 6 may be admitted but each child must stay with one adult player at all times.
No one under the age of 5 will be allowed in laser tag arena.
Price per game after paying general admission
Ages 7 and older
$4.50
per person
Thrilling Thursday's
only $3.50
per person


Players are immersed in the deep space station theme from the minute they walk through the entry way into the briefing room. The thrilling effects continues as players enter the equipment room and then come to life as they navigate the 5400 square foot two-level themed arena filled with mazes, ramps and interactive features.
Once inside you will work to defend your base as a team or individual. If players from an opposing team enter your base station they may be zapped by a guardian and deactivated unless they turn away. Players may zap these guardians for points to temporarily deactivate them so they may reach the base. In the center of the arena dark forces have placed a powerful reactor illuminating the area. This reactor is unstable and may melt down at any point, take your best shot at the illuminated sensors to score big points before this occurs then clear the area or risk being deactivated. These same dark forces have sent a giant creature from another universe to take over our station. For those brave enough you can work to defeat this monster and score big point for you and your team. Beware that the harder you try the more difficult the challenge will become. As you move through the station keep your eyes open for secure portals that can be taken over by any team. If you enter one of the secure areas without proper clearance, once again you will find yourself deactivated and unable to move forward. Up to 30 players participate in the arena at a time either as individuals or a team.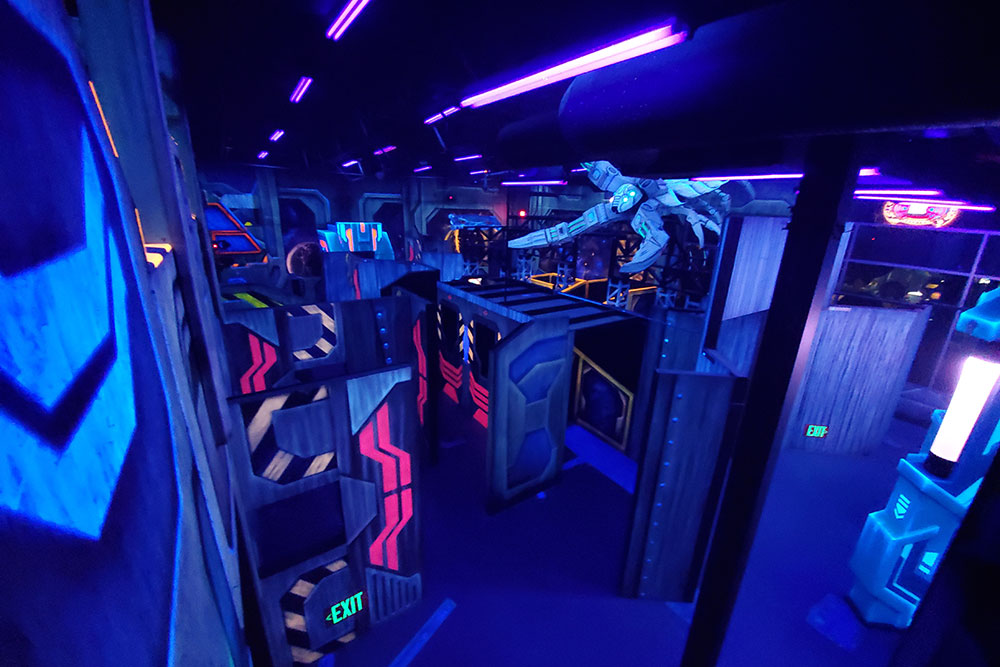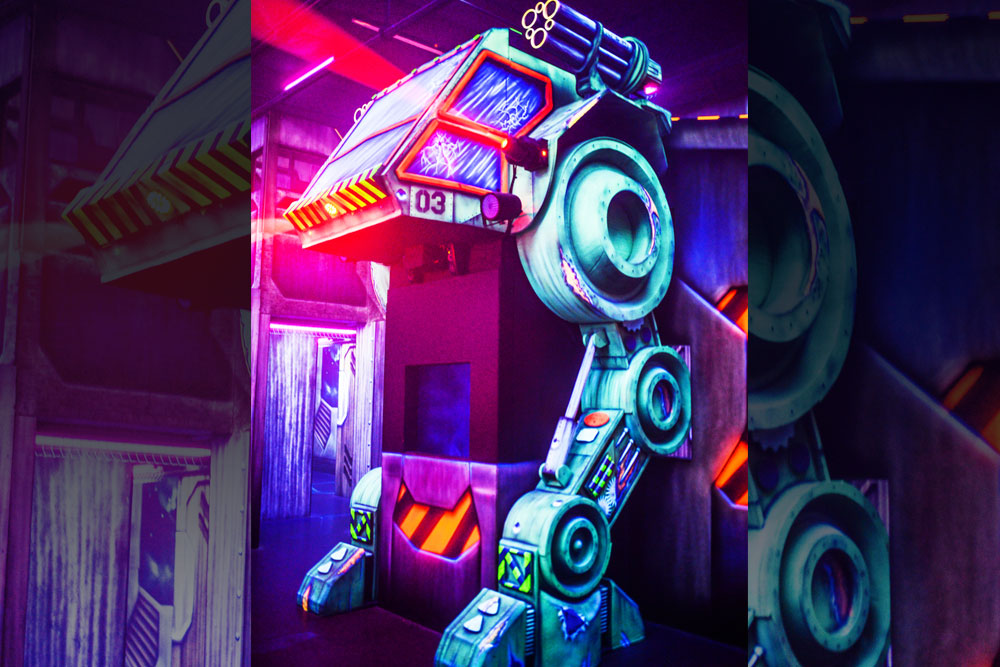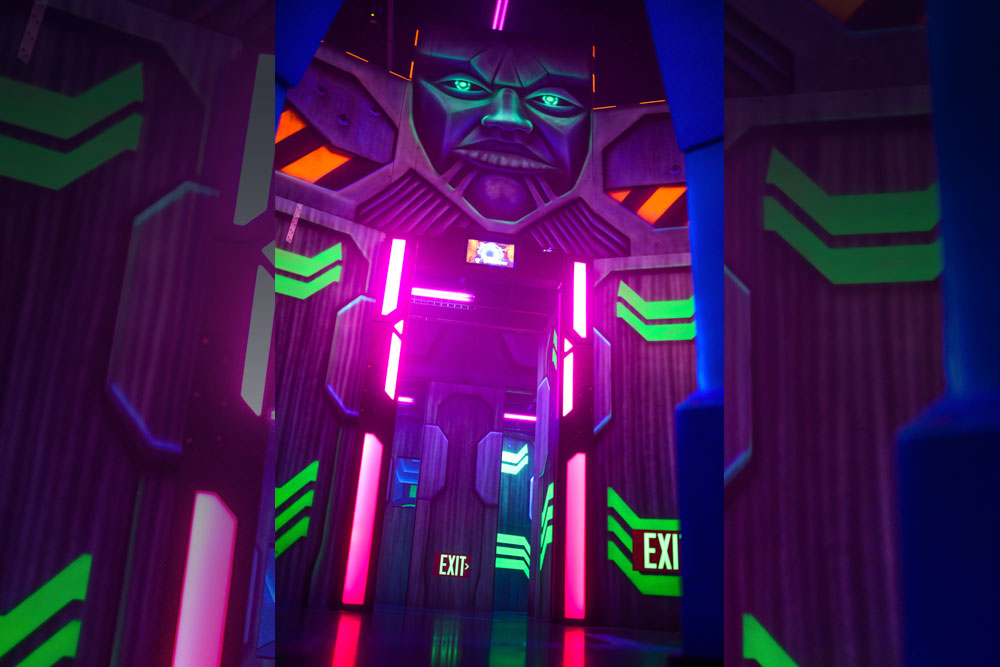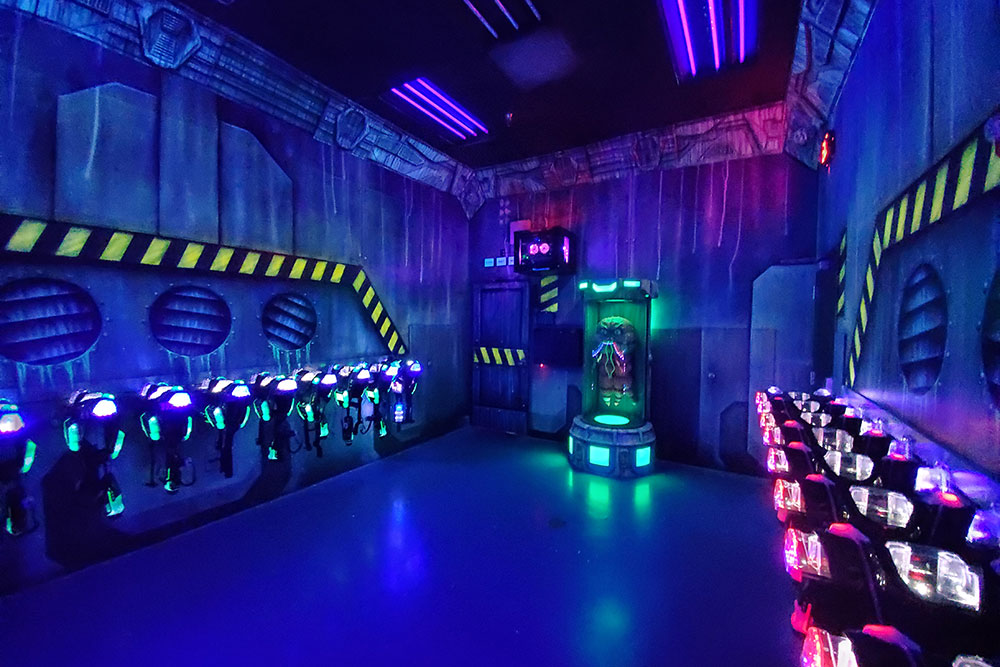 Players are taken back in time as they enter this two-level over 5500 square foot arena. From the moment the door to the outfitters supply house opens you will find yourself immersed in the old west. As your journey continues deep in the arena you will see old lost mines glowing with gems and gold and an old town where seeking shelter may be desired, but hard to find.
Be warned, this old town and mines are still active as you will find cranky old miners and other surprises at every turn. These old miners are very protective of their claims and town and they will do their best to protect them if you dare to enter the area. They can be zapped for points and convinced to be added to your team if you have some skill. You must be ware! Part of the old town has been taken over by the Jade Serpent who has no interest in being your friend and if you disturb her you must take cover or find yourself deactivated. If some how you can survive her attack you will be rewarded with big points. In mine shaft 2 the miners have stored some TNT and if you enter you will find secret gems worth big points but again danger looms and if you are caught in this mine and the TNT becomes unstable and explosion will occur and you will be deactivated once again, only to recover by leaving the area. Flashing gems and shivering town folk may offer more points for sure so maximize your fun and explore every twist and turn of every corner. This arena has three base stations that you can tag to score points and up to 36 players can play at once as either individuals or a team.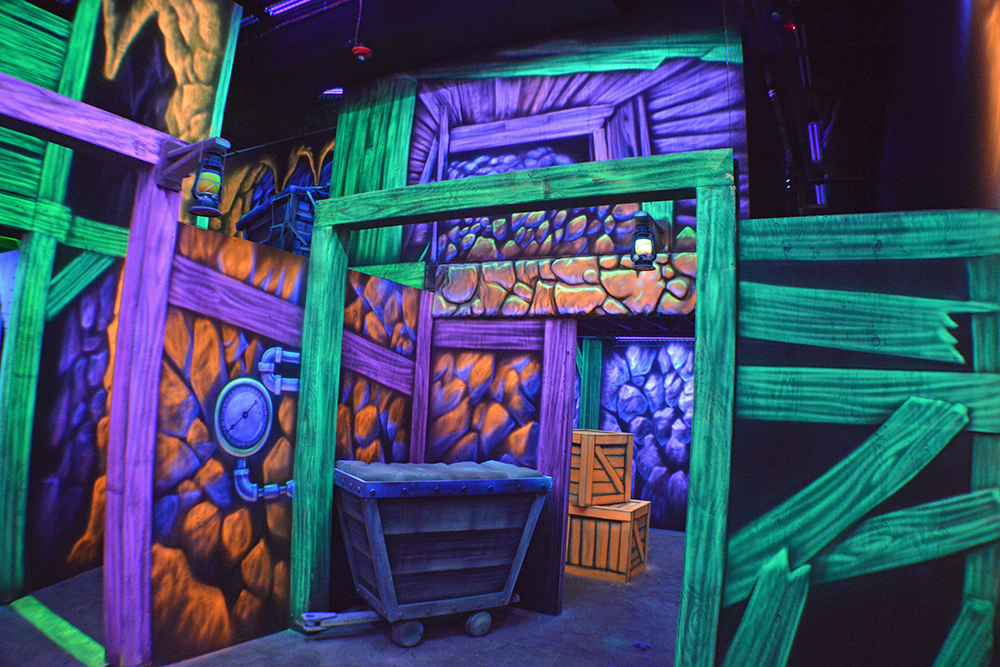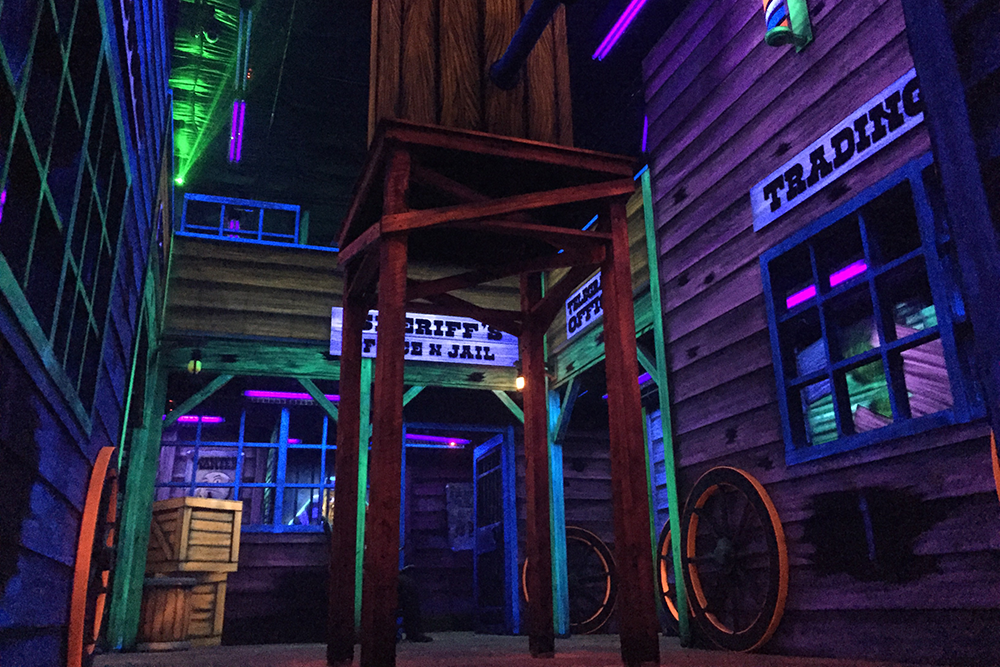 At either location you can play in free-for-all games or as part of a team.
Teams are identified by the color of the flashing lights on the battle suit vests. The players attempt to tag the opponents and the bases of the other teams while avoiding being zapped. When the game is over, players receive individual scores showing how well they and their team did.
Wunderland Laser Tag proudly utilizes state-of-the-art Supernova Laserforce equipment. Each battle suit has 20 hit sensors, 12 full-color LEDs, shoulder speakers with digital speech & SFX, and a 2-handed phaser with a special feature button for advanced abilities. Our Laserforce system offers a unique handicap & power-up system to keep things challenging game after game. The standard game of laser tag is played with 2 or 3 teams, but the sky is the limit!
Become a member and take your game to another level!
Membership cards are only $1 and allow you to choose your own unique codename, view level up and earn new power-ups, unlock laser tag achievements, and see your ranking and stats online at iplaylaserforce.com